Better late than never I guess?
I told you in my last post about new piece of artwork that I purchased for our home. I have admired this artist from afar for a while so I am excited to own a piece of her's (even if it is just a print). Jennifer Moreman is an artist based in Tyler, Texas. She is originally from Dallas and graduated from Baylor with a Fine Arts degree. More importantly, she has a unique style and vision in her artwork.
Jennifer's Ikat Chevron pieces are her mist popular for obvious reasons, but her other works are equally stunning. Although, I am especially partial to this one (I wonder why):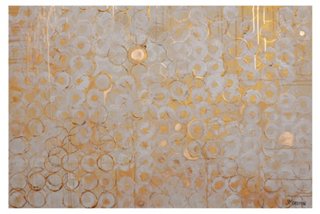 If you would like to look at some of her other works or possibly even purchase one for yourself, you can see her complete collection on her etsy site.
In other news, the weather here in Houston is glorious and it is very hard to be inside for any extended period of time. I have a few other posts planned for the next few days. More to come 🙂